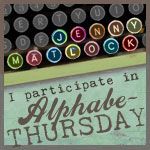 N is for...
N
ever stick a bead up your nose!
Seriously, #2 did it when she was 2, and it wasn't a pretty sight. If cameras were digital then, I would probably have a picture to show you of her little nose stuffed full with one green bead with snot running down her face. But, in 1996, we were still concerned about wasting film, no digital camera, so no pics.
She did it while at daycare, and no one noticed. when we picked her up that afternoon, she got the car and said her nose hurted. I bet it did, there was a bead in it!
We managed to remove the little object without any damage, (to the nose or the bead,) by having her blow it out. If you've ever tried to get a 2 year old to blow his/her nose before, then you know this was no easy task, but the bead, and nose were rescued.
But, apparently, she really liked it that way, because she stuck another bead up there the next day, (but this one was blue, so it wasn't exactly the same.)
Possible songs providing the soundtrack to this adventure in bead rescue:
♪I'm just a girl in the world
♪
(No Doubt)
♪I like the way you work it, no diggity
♪
(Blackstreet)
and maybe this one, because I would follow that little snotty bead filled nose girl anywhere.