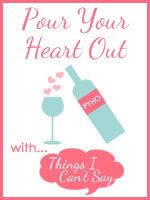 My mind is racing, each thought passing through like a flash of lightning. A flash of an image, a passing thought, gone too fast to grab a hold of.
I have cancerous cells. It's early. I'm having a hysterectomy. I'm okay with it. It's what I need. I couldn't have any more children anyway. I have premature menopause. Good thing I had my girls early. I would've liked more kids. I'm grateful to have my girls. I can't feel bad for myself. So many are worse off. What will I feel like after? Will my tummy feel empty? Will I want to have sex? Will I feel different to my husband? Why am I thinking such stupid thoughts?! This is a good thing. I won't have to worry anymore. It's no big deal. Many people have had a hysterectomy. But, it is a big deal. It's major surgery. I'll be fine.
On and on my thoughts go by, they float on waves of an emotional sea with some waves crashing and breaking harder than others. The biggest wave of all:
I will be strong and I will survive and when my strength waivers, I know I will have you by my side.